Pool Table Installations
Touch to call (234) 231-0356
Professional pool table installations are provided by us here at the Youngstown Pool Table Movers with precise expertise. Our pool table installations are of the most professional and are done by the most competent of installers in our industry. We offer years of installation experience for all types of pool tables.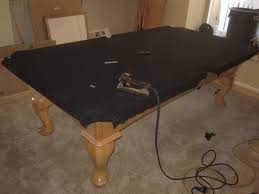 If you have a new or used pool table that needs installation call us. Youngstown pool table installers will take care of your complete installations. New or used, give us a call!
Members of the American Billiard Installers Association.
Pool Table Installations process of a 3 piece slate pool table:
The pool table should be in pieces including legs, slates, cabinet, rails, and pockets with hardware.  The pool table legs will be attached to the frame first, then the frame leveled and placed in the room carefully.
Once the cabinet has been leveled we place the slates on the table using precise measurements to ensure alignment of the slate.  Each slate is individually leveled to create a perfectly flat playing surface.
The pool table cloth is applied to the slates, stretched and stapled before attaching the pockets and rails. The bumpers are lined up and pocket attached to the underside of the pool table.  Youngstown Pool Table Movers will finally check to make sure the playfield remained flat after the job has been completed.
We normally only work with 3 pc slate pool table installation.  1 pc slate tables may be possible depending on the table and situation.  Youngstown pool table installers can also place the new cloth on the table when it is installed.  Check out the colors available for a new pool table cloth.
Installations of pool tables that:
You bought new online and it was shipped to your house
You bought used and it was delivered in pieces to your home
You moved to your house and need professional pool table installations
We can help you with your pool table if you need it professionally installed, leveled, and have the felt replaced. If you need us to bring the pool table upstairs, there may be an additional costs. 1 pc. slates we don't guarantee we will move but check for possibilities depending on the situation.
*We can add Championship woolen felt or upgraded tournament grade worsted cloth for additional charges.